Smt Usha Ramesh, GM/OiC accompanied by Shri Vasant Savardekar, DGM and Shri Ajay D. Nayak, Manager visited Rivona village, Sanguem block, South Goa on 18 December 2020. The visit was facilitated by Shri Ulhas B. PhalDessai, Chairman, Goa St CB and his team of officials.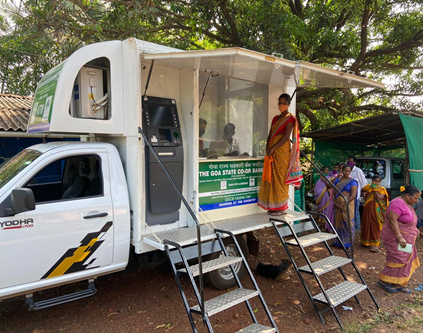 The mobile ATM van besides furthering financial inclusion through financial literacy messages, it provides a banking counter, withdrawal facility through ATM and other basic banking services to the people of the South Goa district. This was amply demonstrated in a remote location in Sanguem block, where RO officials paid a visit.
Kevona is a small village situated in Rivona, Sanguem taluka, South Goa. The village is known for its refreshing springs, caves and verdant beauty. It is situated 20 km away from sub-district headquarter Sanguem and 29 km away from district headquarter Margao. Although good quality roads are paved along the village to the nearest district headquarter, the problem of public transportation still persists. The village population primarily comprise tribal communities who are dependent on financial support given under State Government Schemes viz. Deendayal Swasthya Seva Yojana (DSSY), Griha Adhar, tribal schemes etc. In the absence of robust public transportation, villagers used to take atleast 2 hours to reach nearest branch/ATM for banking services. This van has not only reduced their travel time but also brought banking to their doorstep. The schedule of van is also being circulated among panch members of villages to ensure maximum participation of villagers.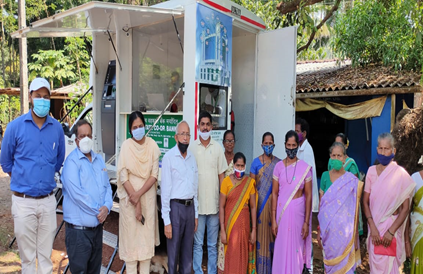 The villagers expressed their delight at the availability of banking services through the mobile ATM van as it reduces their travelling time to visit nearest branch/ATMs which is as far as 10 kms. Apart from ensuring doorstep banking and last mile connectivity for senior citizens, physically disabled persons, rural women, etc. the mobile van has also increased banking penetration and improved quality of services with use of technology.